This is a project about psyche and existential concerns.
The play follows the efforts of a pianist to express different aspects of his soul through music. In his strange journey he confronts hidden demons, ghosts and magicians.
ithin a circle of sounds and images the spectators dive into a three-dimensional poem, by the discovery of torn pages from an astonishing lost diary.
he stage is a piano, transformed into a theater machine, which echoes and narrates the adventures of an artist in a quest for freedom.
The basic idea of this small autonomous performance is an experimental improvisation by a trio of music, text and animated objects, based on the E.T.A. Hoffmann's small novel Kreislers musikalisch-poetischer Klub and the Robert Schumann's piece opus 16 Kreislariana. It is a hymn to life inspired from the universe of these two artists, who could become what they were not, composer for the author and author for the composer. Everything assembled, the piano on stage, the text on display and the animated objects all around, we embark on a poetic playful and yet in-depth flight of our senses and intellect.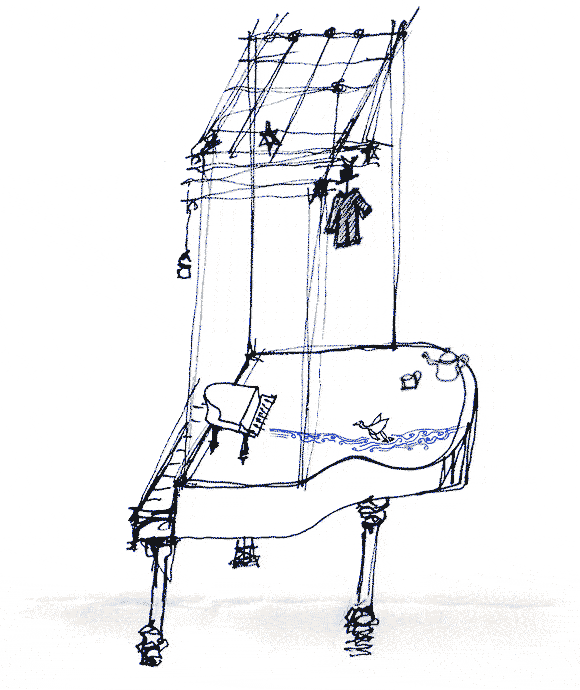 the artists Katerini Antonakaki – Ilias Sauloup – Achille Sauloup
creation 2024-2025
show suitable for all audiences from 7 years old
45 minutes (to be confirmed)

DATES À VENIR - UPCOMING PERFORMANCES
[ en cours ]
RÉSIDENCES DE CRÉATION
Centre départemental / Abbaye à Saint Riquier - novembre 2023
TAUT FITZ / Stuttgart en Allemagne - octobre 2023
DATES PASSÉES - PAST PERFORMANCES
RÉSIDENCES DE CRÉATION
Maison de l'Architecture des Hauts-de-France / Amiens - juillet 2023
Le projet a obtenu l'aide la résidence à l'international de l'Institut Français et de la Région Hauts-de-France, ainsi que l'aide à la résidence au Centre départemental de l'Abbaye de Saint Riquier du Conseil départemental de la Somme. Production en cours.